Mo Serious was started by Charles "Poetic Prophet" Lewis, also known as Chuck, back in 1990. As a resident of the Houston suburb, Missouri City, or Mo City for short, him and his friends began calling the area Mo Serious. As time passed and they entered high school, they began rapping. Although Chuck had been in the church for most of his life, this was not Christian rap music. It was down south gangsta music heavily influenced by DJ Screw, UGK, Eightball & MJG, Outkast and more. They were generating a small buzz locally and he decided to call the promotions…Mo Serious Entertainment.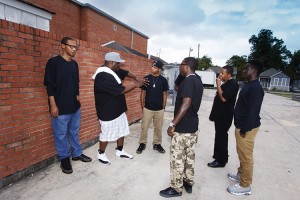 Years passed and most of the crew went separate ways, started families, businesses and etc. By this time, Chuck was doing Christian hip hop under the name Poetic Prophet and had converted Mo Serious Entertainment to a full record label. He didn't have any artist but himself but needed it for business purposes. He was releasing albums and mixtapes under the name so he got the necessary paperwork (bank account, DBA, LLC, etc…)to make Mo Serious official.
Fast forward to present time and MSE is a Gospel record label focusing on leading others to Jesus Christ using everything including rap music, praise dancers, film, singers and more. Currently, the MSE roster includes JT, Chuck's good friend since their freshman year in high school. His best friend Feet…down since the 5th grade. MSE has a teenage Gospel rap group called A1 who Chuck watched grow up from children to youth at Jordan Grove MBC. The last artist on the roster is Franklean, who Chuck has known for a few years. They immediately bonded and shared similar life experiences and once Franklean shared he wanted to stop rapping for the world and rap for Jesus, the rest was history.
Continue to support MSE with your prayers and patronage. Thanks so much and God Bless You!